IT Products
Hardware and Software
We'll source the best products for your business, at an affordable price.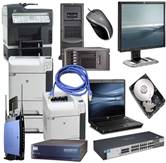 * Office productivity applications.
* Computer and network operating systems.
* Network and data security products.
* Servers, racks, power supplies, and network storage.
* Business management software.
* Desktop computers, laptops, and accessories.
* Printers, scanners, and projectors.
* Routers, switches, and wireless access points.
* Parts and accessories.
* Hardware and software warranties and subscriptions.
We partner with industry-leading suppliers to ensure that we can meet all of your needs at the lowest cost, in reasonable time without compromising quality.